Find out the news from the Club Meeting on 18 January 2017 on our club newsletter.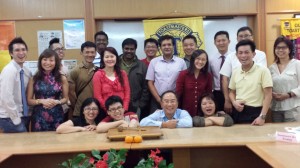 Good day Appointment Holders,
It was an interesting Chapter Meeting and it is only possible because of you! We had our VPs' speeches night, Lou Hei and new members induction. From the bottom of my heart, thank you for availing yourself at the end of the Lunar New Year and help make our 8th Chapter Meeting 2013/2014 a success!
Sergeant At Arms
Thank you Shaun for the courage to rise up as SAA for the opening icebreaker and taking care of the admin and logistics of the meeting. I now know that Simon and I are both Oxens.
Toastmaster of the Evening
Thank you Liang Siah for taking on the role of TME. Without fail, you always entertain us with your humor and mesmerize us with your poise. Always quick to reply and come out with perfect transitions, you are indeed a role model for all members who want to challenge the role of the TME.
Prepared Speeches
Thank you Geraldine and Simon for your speeches. Delivering a prepared speech is never easy, having to put the time and energy behind crafting a speech with value to the audience, as well as the practice and preparation that goes behind it.
Thank you Geraldine for sharing with us the little nuggets of traditions from the eve of Chinese New Year to the 15th day. In the 'busyness' of our lives, we tend to slowly forget who we are and the culture and traditions that make and build us. Thank you for the timely reminder to go back to our roots.
Thank you Simon for sharing with us the interesting facts about owning a car in Singapore. I did not know that we used to have tollgates in Singapore. We have come a long way from that to ERPs. Our CoE came from an interesting system as well, from just a percentage to the now exorbitant prices. Technical speeches are never easy but you took up the challenge anyway. Wonderfully done.
Refreshments
As always, Geraldine has ensured that our meeting proceedings are with good food. Thank you for ordering the food.
Speech Evaluations
Thank you Helen, Vincent and Huilin for taking very valuable time out of your very packed schedule to join us this meeting and to help our members grow with your evaluation.
Thank you Helen for your insights to Geraldine's project. After a long hiatus, she took up the challenge to complete her project. You gave her valuable points to take away and the confidence to challenge her next project. Your point on the title making a very big difference to the speech is an important lesson not only for her, but for all of us as well.
Thank you Vincent for your evaluation for Simon. Evaluating an Advanced Project is intimidating and daunting. Evaluating a Technical Speech can be worse. Yet, you made it look like such a simple task. Your points for Simon was simple for all to understand and applicable to all our members, basic or advance manuals.
Thank you Huilin for agreeing to be my evaluator. I had been changing your date of visit and you always readily agree to it and I am really appreciative of that. Your points were in depth and I had benefitted from your evaluation.
Table Topics
Thank you Eunice for your very interesting Table Topics. No one would have ever thought of doing Table Topics like you did. It is a very engaging session and we had a lot of fun defending ourselves against petty Lunar New Year Crime. Thank you all table topics speakers for 'fighting' your case and entertaining us with hilarious replies.
Congratulations Bernard on winning the Best table Topics Speaker.
Induction
Thank you Simon for putting together the Induction and welcoming our new members into our QTMC family.
Timer
Thank you dear friend from Raffles Singapore, Parthi, for faithfully keep track of time while trying your best to focus and listen.
Visitors
Thank you Raffles Singapore @ Mountbatten for visiting us and joining us in this joyous occasion. Although you have robbed us of the golden gavel, we had fun hosting you.
Visiting Toastmasters and guests, thank you for making your way down and for making this meeting a success, and we welcome you to visit us again on the 19th of Feb 2014 to witness the crowning of our Club's International Speech and Table Topics Champion.
Thank you QTMC members for coming for the 8th Chapter Meeting of the 16th Executive term and I look forward to seeing you for the club contest on 19th Feb.
Members who were not able to make it, I hope this note has given you a glimpse of what you have missed and I look forward to seeing you on 19 Feb as well!
Thanks and Regards,
Timothy Lin, CC/CL
Vice President Education 2013/14
Queenstown Toastmasters Club
Good day Appointment Holders,
From the bottom of my heart, thank you for availing yourself this Christmas period and help make our 6th Chapter Meeting 2013/2014 a success! Pardon the long email
SAA
Thank you Geraldine for helping with the food catering and the preparation for gift exchange as well as manning the registration counter. Your serving heart was evident when you wanted to reach out to visitors and members and ensured they all have their door gift and number tag for the gift exchange.
Presidential Opening Address
Thank you Veronica for another opening address reminding us that giving is not about how much but about the love behind the giving. You reminded us to remember about family and to give back to our families who have given so much to us. Thank you for the very apt and timely message as we remember that this season is also about our family and loved ones.
Prepared Speeches
Thank you Shaun, Cindy and Mindy for taking the time to prepare for this segment. Delivering a prepared speech is never easy, having to put the time and energy behind crafting a speech with value to the audience, as well as the practice and preparation that goes behind it.
Thank you Shaun for sharing the 3 logic fallacies. Indeed, when we make decision, we tend to over-think and create funny scenarios in our mind. You have pointed them out and shared how to break free from it. It is a very deep topic and I look forward to hearing you share more and elaborate these points in your future speeches.
Thank you Cindy for reminding us what President Veronica has shared in the last chapter meeting during her opening speech. She reminded us that all of us makes a difference and you have shared stories and experiences, lessons and applications on how we can make a difference in the lives of other people. No man is an island and everything we do will make a difference in another person's life. A very timely message this festive season.
Thank you Mindy for inspiring us with your toastmasters journey, from your P1, which you shared having so much encouragements to how DTM Michael Wee helped you decide to stay on and continue until now when you finish your final project. Your journey is an inspiration and motivation to us all. We will remember your promise to mentor anyone who needs help
Congratulations DTM Mind Ding on winning the Best Speaker for tonight.
Refreshments
Thank you Liang Siah, Michele,Serene and Rose for the Cake, Green Bean Soup and Sparkling Juice. It has added to the festivity and ensured that we are very satisfied during the meeting.
Speech Evaluations
Thank you Richard, Sin Tiong, Aileen and Michael for taking very valuable time out of your very packed schedule to join us this meeting and to help our members grow with your evaluation. It is not easy to put together an evaluation in such short time but you managed to gather really great points for growth for our members.
Thank you Richard for your evaluable insights to Shaun's project. A very new member, you pointed out detailed learning points for him while staying very encouraging and affirming.
Thank you Sin Tiong for your very valuable pointers to Cindy. Completing her final project, you have helped her understand how all nine projects come together to form an inspiring speech.
Thank you Aileen for your very encouraging observation to my Toast. You have pointed out a very good point and I should have acceded to your suggestion. I will strive not to be lazy in that sense next time!
Thank you Michael for your detailed evaluation for Mindy. Having gone through the path to DTM, you are the best person to evaluate our next DTM. Your observations to her had definitely helped not only Mindy, but all of us, as we attempt a motivational speech.
Congratulations Sin Tiong for being voted the best evaluator for tonight!
Timer
Thank you Serene for paying attention to the timing while being focused on the speeches. Your faithfulness in ensuring the timing sequence is followed properly in order to help our speakers has been a testimony to your serving heart.
Awards and Recognitions
Thank you Veron for a very summarised account of Mindy's Toastmaster Journey from 8 years ago. Your sharing during the award presentation of her contributions has indeed inspire us to follow in Mindy's footsteps and strive to be the next DTM.
Congratulations Cindy on your completion of the Competent Communicator Manual. I really look forward to your Advanced Projects!
Congratulations Mindy on your award as Distinguished Toastmaster, the highest recognition in the Toastmasters Movement.
Thank you NTU Inspyre Members, lead by VPPR Sandy Zhang who gracing this chapter meeting. It is always good to have comrades from other clubs joining us!
Christmas Celebration
Thank you everyone who have brought a present for the gift exchange. Although there was a little confusion, everyone walked away with a gift. As we open the gift, remember, "it is not how much we give, but how much love we put into giving" (Mother Theresa) .Thank you everyone of you who was present this Chapter Meeting and Christmas Celebration. You have made this meeting a very successful one!
Visiting Toastmasters and guests, thank you for making your way down and for making this meeting a success, and we welcome you to visit us again on the 15th of Jan 2014 for our 7th Chapter Meeting.
Thank you QTMC members for coming for the 6th Chapter Meeting of the 16th Executive term and I look forward to seeing you for the 7th Chapter Meeting on 15 Jan!
Members who were not able to make it, I hope this note has given you a glimpse of what you have missed and I look forward to seeing you on 15 Jan as well!
Happy Holidays and a fruitful 2014!
Thanks and Regards,
Timothy Lin, CC
Vice President Education 2013/14
Queenstown Toastmasters Club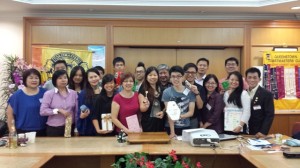 Please visit
https://www.facebook.com/events/707064469305887/
Good day Appointment Holders,
From the bottom of my heart, I would like to express my gratitude to every one of you who have contributed to another successful Chapter Meeting! Pardon the very long email =
TME
Thank you Kim Loon for helping to control the meeting and ensure a smooth running of the Chapter Meeting. Your transitions were peppered with humour and wit, and the flow was swift. It has been some time since we ended so early and it is possible because you had a grasp of timing and event.
President's Opening
Thank you Veron for the very inspiring speech on impacting people one at a time. Your closing statement of "It made a difference" for the story had caught the attention of all listening to your opening address. Your call to serve and make a difference in the lives of others is definitely something that we should strive to do.
LE
Thank you Zhi Hao for taking up the challenge of being our LE. It is not easy, having to not only pay attention but to stay focus while you are taking notes. I tend to get distracted by my own note taking but you were listening intently. Your word of the day was with meaning and values, encouraging us to seize the day. Your suggestion was informative, especially the stressing of the second syllable in a word with 3 or more syllables.
Prepared Speech Speakers
Thank you Manish, Cindy and Simon for your investment of time in preparing for a wonderful speech which inspires while informing us of the little known details in our lives.
Thank you Manish for the Laughter Yoga. I was tensed at the beginning of the meeting, worrying about my Impromptu Speech. However, your speech and demonstration of Laughter Yoga immediately helped me to relax.
Thank you Cindy for introducing the IDAT app by HPB. It will make watching my diet and calories intake easier and i now know it is better to go for KFC Fried Ribs than KFC Fried Drumstick.
Thank you Simon for the very informative speech on Dengue made easy for absorption. I did not know there are so many types of Dengue Fever. I am sorry i couldn't lay my hands on a projector. It had affected your delivery, but the speech quality was still very high.
Congrats Manish on winning the best speaker!
Refreshment
Thank you Geraldine for the wonderful refreshment. Thank you for ordering it. This selection was pretty well received by everyone.
Thank you Tracy for the little 'satay' snacks you made yourself. It was refreshing and yummy!
Speech Evaluators
Thank you Jianyu, Zee, Gwen and Liang Siah for your insights for the speakers. Your sharing had open my eyes and ears, and had helped me realise some things that i missed out. Most of you over run because your evaluation was not for voting purpose but really to benefit the speakers. Thank you for not worrying about the timing and putting the speakers first.
Thank you Jianyu for a very detailed evaluation for our new member Manish. Your suggestions using LAUGH was insightful and has helped me understand how I can improve myself as well, like how i can emphasise on idea using different variations of the same word.
Thank you Zee for a very succinct evaluation for Cindy. Your suggestions were detailed and had definitely helped Cindy. I like the way you structured your evaluation, to the point and with examples. Indeed, you have always been a model for our members and I look forward to learning more from you.
Thank you Gwen for agreeing to be my evaluator. Thank you for so willingly thinking up the topics, even though it is suppose to be my job. Your encouragement and energy have been received and I thank you for investing your time in helping me. I will work on my audience engagement and not being so sedated.
Thank you Liang Siah for a very in-depth evaluation for Simon. Having to hold and pacify a child while evaluating is very challenging and yet you make it look like a walk in the park. Thank you for the additional information about the mosquito and how painful Dengue is. You are a senior member we all look up to and strive to be.
Table Topic
Thank you Tracy for so courageously taking up the Table Topic Master position at such late notice. Thank you for bringing in the fun elements into the topic I prepared. Many perspective you offered while hosting table topics I have not noticed. Thank you for making it so much fun.
Special thanks to Eric, Jianyu, Alice, Glenn, Richard and Ching Kang for being so 'on-the-ball' and challenging the table topics. Congrats Alice for the best table topic speaker!
Timer/Ah Counter
Thank you Eunice for keeping watch over the time for the speakers. Thank you for helping me countdown with Simon to help spur me on and to hit the time objective. Thank you for your focus to ensure an accurate timing process.
Thank you Alison for paying attention and listening into our pause fillers. It is easy to get lost in the speeches and missed the pause fillers but you were not distracted.
Visiting Toastmasters and guests, thank you for making your way down and we welcome you to visit us again on the 18th of Dec for our 6th Chapter Meeting and Christmas Celebration.
Thank you members for coming for the 5th Chapter Meeting of the 16th Executive term and I look forward to seeing you for the 6th Chapter Meeting on 18 Dec!
Members who were not able to make it, I hope this note has given you a glimpse of what you have missed and I look forward to seeing you on 18 Dec as well!
Thanks and Regards,
Timothy Lin, CC
Vice President Education 2013/14
Queenstown Toastmasters Club
It was cold n wet when many would prefer to go home, stay indoors and watch TV. Members of QTMC and guests would prefer to attend QTMC mtg for a treat of live performances from our dedicated speakers, evaluators, toastmasters of the evening and guests.
Though the weather had caused traffic jam, delays and challenges but it did not hamper the enthusiasm of our club president to amuse us with his POP!
Eloquent and gorgeous Glenn, TME led the meeting with ease, added spices into his delivery to make the meeting flavorful.
I, Mindy, being the Language Evaluation encouraged the speakers to use 'white' in their speeches. Eg. 'White-hot' , white-wash, as white as snow, white elephant etc. As our brain react well with colours, when one uses colors in their speeches, they are enabling the audience to visualize and remember the content better.
Stanley who had witnessed the effects of bad drinking habits that affects many lives warned and advised us to be responsible drinkers. He gave us real life 'horrifying' stories that kept us grinning our teeth.
Ei Kay gave us a treat on 'mohinga' a popular noodle soup in Myammar, esp. in her hometown. She called them 'threads inside a pool'. She displayed her immersive research in beautiful & descriptive words that caused us to salivate and yearning for that 'pool of threads'. In replacement we had threads in styrofoam , fantastically delicious fried bee hoon with delectable crispy chicken wings, for refreshment that night.
Benjamin was dressed to impressed! He impersonated Peter Parker, The Spiderman… spinning web and climbing on walls. His amazing body language speaks of his admiration toward his fictional hero. "Everybody loves a hero… everything happens for a reason… therefore let courage be yr friend" excerpt from his speech.
Veronica wooed us with a her many dreams when she was younger. She was a dancer, a sportswoman, an artist, an architect, a designer. She had her hands on all of them and eventually became a credible designer that made many envied and admired. Therefore if she would dream to be a champion speaker, I believe she will be one in time to come. Keep up the good work, Veron!
The rising star, Kegan, pulled our hearts string with a touching tale of an old lady with glistening eyes and a gracious taxi driver. Kegan being the best speaker of the evening reminded us not just to search for great situation but rather live every situation greatly. Kudos Kegan!
All the evaluators did their best gave their analysis and recommendation to the speakers. Their contribution made a difference in the meeting and one has to be present to enjoy and be enriched by their evaluation.
In our table topics segment, we had enthusiastic guests volunteered to face the challenge. Eventually our incoming member, Simon, won the applause and support of many. He won the best table topic speaker ribbon. Well done Simon!
Finally the president closed the meeting calling members to continue to speak & serve. Step forward to write the Sterlink. Step forward to contribute for our year-end chapter meeting next month. Just contact any EXCO members to inform of your contribution.
Don't forget to bring your friends to join us in the next meeting on 19 Dec 'Christmas Special' for another exciting, enriching and enlightening evening!
Thank you!
Sterlink Written by Mindy Ding
"Every individual is a gem in the making, in preparation of what is to come"
It seemed the effect had taken place, we were, not long ago talking about the fun of food, it immediately created in awe of liking, more members were predicating their speeches to food-related subjects as their core theme, or somehow implicit in their contents. Toastmaster movement is just like the above quotation, you, who create an opportunity for members to participate. He, who creates the expansion of the opportunity that's given, It is a win-win scenario, the scenario that tags to the opportunity, is an effluence created by our club.
On 17th October 2012, "The story of opportunity" unfolds…
Melissa, the TME called upon the meeting, she is the antecedent of the past Club's President, to kick off with a "sweat and short" self introduction of the new members and guests. It was quite a few new faces came to visit our club's meeting. In the causal interaction with them before the meeting commenced, this was the feedback we garnered: They came to personally behold the quality of our club and thereby to join our club member is of the main reason.
The brand's that counts! We are not bragging about how superior of the club is, as a matter of fact, the club's branding is the culmination of years of effort and hard work! Thanks to all members!
"The man in black", prominent figure dressed in smart dress code. The smart dress code represents power, status and significant to the club. He is our Club's President, Richard, who walked up to the front confidently upon announcement made by Melissa. He gave us his opening address by quoting Patty Hansen's idea "you create your opportunity by asking for them". He is central to the club's development, and he encouraged us to act upon Patty's claim. Richard's sublimation remarks, emphasized the importance of seizing the opportunity, to participate, and to get involvement of the club's various events and activities, and even undertake the leader role apart from the monthly routine meeting. Well, no worry Mr. President, we will support you!
Swiftly, the first prepared speech speaker, Fangli, relatively new to our club, attempting her Project 1. A Mechanical Engineering (ME) trained lecturer from Singapore Polytechnic. ME is quite a dry and boring subject to most people. However, for Fangli's stance, she was strongly denying it, she overthrew the myth by re-examining the grey area. On the contrary, she envied us with her story. In her story, she informed us she was the only beauty in the campus and ended up engaged with her current husband. Was that a joke that she was deliberately claiming herself as a famine in her story, or was it a kind of subjugation? Or was she trying to project a perfect world concept that the prince and princess are living together happily and forever? She took us to her own version of fairy tale; a fairy tale that led us to a picture of pastoral landscape, entered into a turreted image of castle…we immersed in the dreams of fairy tale, started emerging in our brains with fictitious effect when her story continued. I had a difficulty to get out of this fictitious dream, how about you? If you have got more to find out her story, you may do so in the next opportunity of meeting her again.
The story was continued when Kegan, the second speaker, attempting his Project 4. He shared with us the definition of 'what a perfect world" meant to him. He gave a reference to his perfect world which came with three parameters, Good Food, Good Fun and Good Friends. I agreed with his assumptions, but when I was examining my BMI, I rather choose to be his good peer as a first priority. Kegan's terminology for good fun is his dream place conceived as a Paradise – famous resorts in Thailand. The country that provides exotic resorts, the fun of beach, the sun and the sea, that project a nice landscape of so called beautiful world, altogether with food, fun and people, a paradise that you could associate with…
Associate with food, finger licking food was the boundary that Glenn was trying to challenge. He was attempting his AP10. The Colonel's Kentucky Friend chicken, his original recipe was only recognized by 1,009 rejections. Glenn's version of the perfect world was portraying in a form of "double swords" effect. That was the hard work that Colonel had been putting in despite the fact of 1,009 rejections. Colonel's effort was recognized at last, and he is enjoying his "food of labor" now. His perseverance and determination have paid for. Glenn transpired Colonel's secret – his success story, and this successfulness is not only in terms of his secret recipes, but his perfect unique hard work that he had paid for too. Seizing every opportunity to pursue his dream of success also transcends to a new vision of contemporary "fairy tale" happy forever. What Glenn was trying to inform us by quoting this classic example, was to encourage the members, which behind every successful story, every opportunity and hard works. He reconciled a perfect "double swords" story which every success is deemed possible.
This modern "fairy tale" was just begun, Mindy, wearing a tight-fit black top, fluttered voluptuously within the front area of the meeting room. She was attempting her project AP7. She immersed herself in her own vision of fairy tale story; she played a role of Beauty, a resurrection of modern "Beauty and the Beast" story. The Beauty falls in love with the Beast (her current habby) without single rejection at all. She interpreted the Beast within her life is important to her, The Beast turns to Prince Charming within her perfect world model. She needs not even have to reverse her role of feminism, not even have to trickle droplet of tears to transform him to another Prince Charming as he already is. The "he" is always her already formed "dictionary" for consultation. What a perfect world within them, this was what Mindy's intention and she was trying to convey in her story. She has successfully seized her opportunity, not seized him as a trophy, but seized him as a gem by withholding the perfect Prince Charming as her life partner.
In Jared version, (an invited guest), having his AP2 in our meeting, he provided us with an "opportunity" to understand his story. This was a complete distinction of understanding his version of "perfect world". His perfect way of seizing every opportunity to reply those nuisance emails. His contemplation of fighting back at mediation seeming failed when the moment he received negative remarks, turning down by the receptionist at the door. This is against Jared's intention to promote basic etiquette of email contents and it seemed many at times this area was overboard, social harmony is lacking here.
The break came back with more stories. Zee Lin was ready to share her story, dressed in pastoral blue top. She was the Evaluator for Fengi, her story was resonated with humors of self –discrimination, she regretted to be an Engineer trained background, else the story of Prince and Princess would be resurrected, and she would be the only targeted Beauty to be seized in fast rate.
The story teller Tracy, also the Evaluator, she evaluated Kegan's project. She paralleled her story with Kegan. She also claimed as one of the holiday goers, she has seized every possible chance to go for a holiday with her love ones. A perfect resort is alluding to a perfect world to support her claim.
Jared maintained his same composure to his stance, so I would not elaborate for him further. But for Ted Chong, another invited guest, giving his view on Mindy's project, apparently, he was jealous for being not a perfect gem for Mindy. He was incredulous in believing it, but certainly he needs to work a little bit harder to rule out such imperfect world –to him this was a palpable system. As we can see, he was trying to foreshow and challenge the binaristic world; which presents it in the pre-determined format of "perfect Prince and Princess". Even he is not as perfect as the Prince Charming, in order to outshine other Prince Charming, he could have broken the historical shackle.
Liang Seah provided his view for Jared. He foreground the perfect world to be conceived, it supposed to establish on a mutual arrangement.
Table topic master, it was handled by the writer of this article. Again, he only counts the central to the perfect world; all must seize every opportunity. The respondents to his questions were seen responsive; they have learnt fact enough to become KS (Kia Su syndrome among fellow Singaporeans, to be perfect for every achievement of success). Nobody wants to lose out to anybody and everybody wants to be the winner; the rumbling resonation was thus deciding only one perfect winner in this segment. The rumbling resonation also announced the winner for the best speaker and evaluator.
a) Best Table Topic speaker – Ted Chong
b) Best Prepared Speech Speaker – Glenn
c) Best Project Evaluator – Jared Kang
Albert Lim was contributing to the perfect use of the language in this meeting, a regular guest to our club. In consideration of taking the fact of the binaristic world, good and bad, perfect and imperfect, black and white, etc. Albert pointed out good use of language, and otherwise. Of course, some speakers were appreciated by using the language adroitly.
The meeting came to the end of the perfect meeting with perfect speakers, with their perfect views. But one central rule to the perfect match that not to forget is the seizure of the opportunity. Although there is no such thing as perfect in this world, and definitely there is no universal answer to legitimate this argument. We are trying to be perfect as close as possible, as close as possible not to miss any meeting, this equates to the opportunity that has been underlying for you to seize for it!
See you guys in the next meeting!
Recorded by: Ken Quah