Area D3 will be conducting the Area Speech Contests on 19 Sep 2020, 2pm.
The 23rd Term Club Officers will be installed in this evening.
Time: 7.30pm.
Contact us for more information
Has the pandemic made you feel uncertain about your career and the value you bring to your company?

Do you feel like you need to gain an edge when you apply for new job openings, in order to get ahead of the rest once the COVID-19 situation gets better?

Are you ready for perhaps the opportunity RIGHT NOW, to learn from Public Speaking champions and Human Resource Practitioners on how to set yourself apart from the rest of the pack? Are you ready to level up and EVolve??



Well, the secret…is finally out.

Queenstown Toastmasters is proud to host EVolve 4.0 Webinar, happening on 13-14 June 2020. Our panel trainers will be sharing with you essential tips and well-documented techniques, for you to succeed.

Tips that will distinguish you from the rest and give you THE edge you desire.

Tips that are extremely valuable when you go there seeking job opportunities that you deserve!

On top of that, we're also giving you a a 6-months membership to *Toastmasters International*, allowing you to continue to gain valuable mentoring and coaching guidance from us

*All of this for S$99*

Unbelievable. So come, EVolve with us and Gain your Success.
*BOOK YOUR SLOTS NOW!!*

Comment "Yes" down below *OR*
Click on the link to register
https://tinyurl.com/qtmcsc202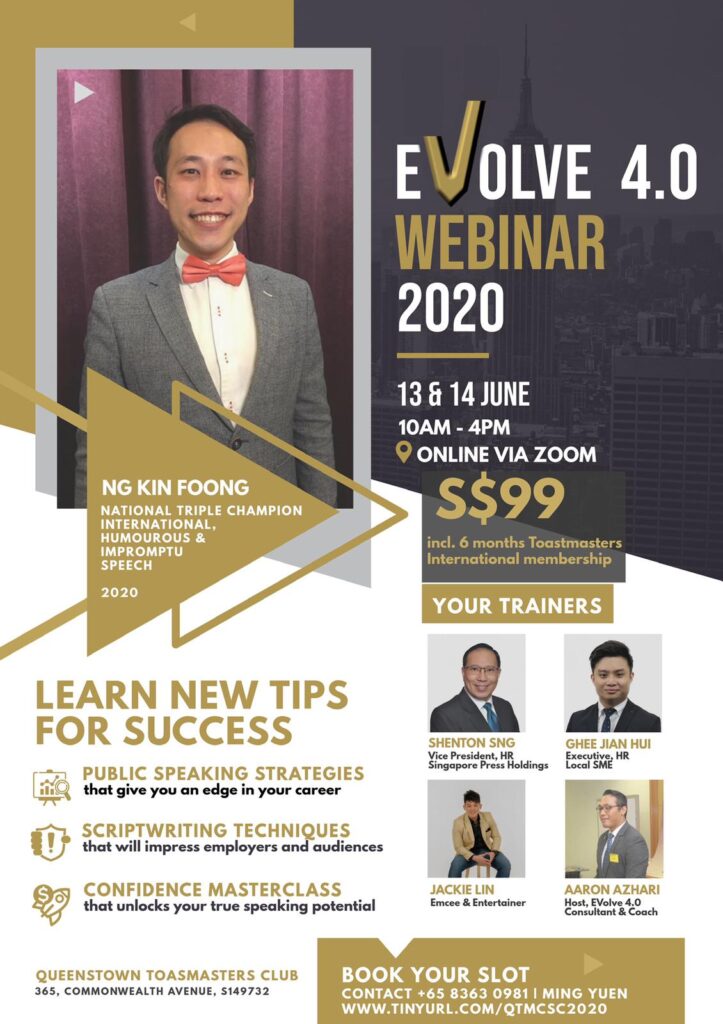 We have an additional meeting in June 2020.
In view the current COVID-19 situation, this meeting will be held online.
Time: 7.30pm.
Contact us for more information
On 20 May 2020 , Queenstown Toastmasters has its 3rd Online Chapter Meeting.
It's the last meeting before Singapore officially exit from Circuit Breaker. However, with continued restriction by the government due to gradual reopening, online meeting will take root.
The theme of the meeting was "Begin each day with a grateful heart". Our participants has enthusiastically shared what they were grateful for despite current period of crisis.
Word of the day was "Contented". In line with the theme, participants are encouraged to use the word in their speeches.
As usual, the meeting started with Table Topics, followed by Prepared Speech and their respective Evaluations.
Our list of appointment holders and participants are as follow:
Toastmasters of the Evening(TME): James Lim
Sergeant at Arms(SAA): Aaron Azhari
Table Topics Master: Andass Teu
Language Evaluator(LE): Avreal Teng
Ah Counter: Tracy Wong
Timer: Poh Liang Siah
Table Topics
1. Li Shan Shan
2. Wendy Neo
3. Thomas Chen
4. Richard
Prepared Speech
1. Edna Soon
2. Wendy Neo
3. Chee Kim Loon
4. Ong Sin Tiong
Evaluation
1. Li Shan Shan
2. Aaron Azhari
3. Bernice Peck
4. Thomas Chen
The awards as follow:
Best Table Topics: Thomas Chen
Best Prepared Speech: Ong Sing Tiong
Best Evaluation: Thomas Chen
We are also grateful to all visitors who have made the effort to join our meeting.
To celebrate the official end of circuit breaker, club will hold a surprise meeting next month!
Stay tuned to find out more!
Last but not least, we wish all our Muslim friends Selamat Hari Raya Aidilfitri!