Time: 7.30pm.
Contact us for more information
Area D3 will be conducting the Area Speech Contests on 19 Sep 2020, 2pm.
Our club member Aaron Azhari took part in District 80 Table Topics Contest on 10 May 2020.
To reach this stage of the contest is no simple feat. Participants have to first qualify 3 contests at Club, Area and Division level respectively as champions!
We did not eventually emerge victorious. However, Queenstown Toastmasters is proud that we have made it this far! Valuable experience gained and we hope we can come back stronger in future!
Well done Aaron!
On Saturday (28 March 2020), 4 of our members participated in the Area D3 Contest. List of participants are as follow;
International Speech:
1. Arju Chowbey Chakraborty
2. Aaron Azhari
Humour is Speech:
1. Wong Jia Ler
2. Poh Liang Siah
Table Topic:
1. Poh Liang Siah
2. Aaron Azhari
Due to current Covid-19 situation, the contest was conducted online to minimise social contact. Nevertheless, this has not dampened the spirit of our participants. ??
The outcome of the contest was fantastic. 3 of our participants have either clinched winner or runner up for their respective categories.
Summary of our results ?
International Speech:
(Champion) Aaron Azhari
Humorous Speech:
(Champion) Poh Liang Siah
(1st Runner-up) Wong Jia Ler
Table Topics:
(Champion) Aaron Azhari
They will represent the club and Area D3 in the next level at Divison D Contest.
The contest will be held on 5 April (Sunday) 1:30pm to 4:30pm online via Zoom.
Congratulations ? ? to all our participants and may you do the club proud once again!
Come and join us to check out who will be representing the Club in the Area Contests!!!!
Wanted!!!!!
Speech Contestants for Club International Speech and Table Topics Contests on 15th Feb 2017!
International Speech Contest: Requirement, MUST complete at least the first 6 projects of the Basic Communicator Manual.
Table Topic Contest: ALL MEMBERS ARE WELCOME TO TAKE PART!!!!
Winners will represent the Club at the Area Level Contests!
Let's congratulate Liang Siah for obtaining a 1st runner up medal for Queesntown Toastmaster Club in the above event held on 15th March 2014 at the home ground.
Queenstown Toastmaster Club was the hosting club and organised by Richard Tan, CC who is the D5 Area Governor as well as the club's IPP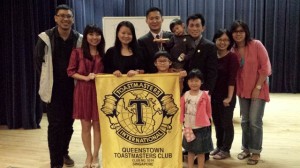 Congratulations to all contestants representing area D4 and D5 toastmasters club.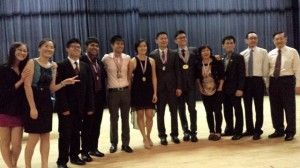 Champions will represent their respective Areas in District 80 Division D International Speech & Table Topic contest to be held at Nanyang Technological University, Tan Chin Tuan Lecture Theatre on 29th March 2014 at 1.30pm onwards.
The annual international speech and table topic contest has concluded successfully on 19th February 2014.
Liang Siah who has bagged down both awards will be represent the club at the Area D4 & D5 International Speech and Table Topic contest on 15th March 2014 1.00 to 5.30pm at Queenstown Community Club Auditorium.
https://www.facebook.com/events/1460810807473067/
Once again, the annual humorous and evaluation speech contest is here. It will be filled with lots of laughter for everyone.
Hope to see you there