Come and join us to check out who will be representing the Club in the Area Contests!!!!
Wanted!!!!!
Speech Contestants for Club International Speech and Table Topics Contests on 15th Feb 2017!
International Speech Contest: Requirement, MUST complete at least the first 6 projects of the Basic Communicator Manual.
Table Topic Contest: ALL MEMBERS ARE WELCOME TO TAKE PART!!!!
Winners will represent the Club at the Area Level Contests!
Our Club Contestants at the Area D4 Humorous Speech and Evaluation Contests held on 17 Sep 2016
Timonthy Lin – Evaluation Contest Champion
Kelvin Ng – Humorous Speech Contest 1st Runner-Up
Chee Kim Loon – Evaluation Contest 1st Runner-Up
Rose Ho – Humorous Speech Contestant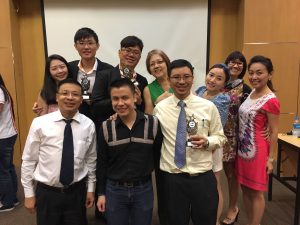 Our Club Contestants, Supporters and Area Director at the Area Contests
Join us in the Club Humorous Speech and Evaluation Contests on 31st August 2016.