29th January Chapter Meeting cum CNY celebration Sterlink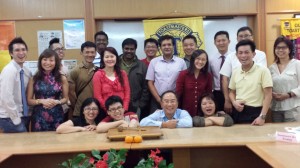 Good day Appointment Holders,
It was an interesting Chapter Meeting and it is only possible because of you! We had our VPs' speeches night, Lou Hei and new members induction. From the bottom of my heart, thank you for availing yourself at the end of the Lunar New Year and help make our 8th Chapter Meeting 2013/2014 a success!
Sergeant At Arms
Thank you Shaun for the courage to rise up as SAA for the opening icebreaker and taking care of the admin and logistics of the meeting. I now know that Simon and I are both Oxens.
Toastmaster of the Evening
Thank you Liang Siah for taking on the role of TME. Without fail, you always entertain us with your humor and mesmerize us with your poise. Always quick to reply and come out with perfect transitions, you are indeed a role model for all members who want to challenge the role of the TME.
Prepared Speeches
Thank you Geraldine and Simon for your speeches. Delivering a prepared speech is never easy, having to put the time and energy behind crafting a speech with value to the audience, as well as the practice and preparation that goes behind it.
Thank you Geraldine for sharing with us the little nuggets of traditions from the eve of Chinese New Year to the 15th day. In the 'busyness' of our lives, we tend to slowly forget who we are and the culture and traditions that make and build us. Thank you for the timely reminder to go back to our roots.
Thank you Simon for sharing with us the interesting facts about owning a car in Singapore. I did not know that we used to have tollgates in Singapore. We have come a long way from that to ERPs. Our CoE came from an interesting system as well, from just a percentage to the now exorbitant prices. Technical speeches are never easy but you took up the challenge anyway. Wonderfully done.
Refreshments
As always, Geraldine has ensured that our meeting proceedings are with good food. Thank you for ordering the food.
Speech Evaluations
Thank you Helen, Vincent and Huilin for taking very valuable time out of your very packed schedule to join us this meeting and to help our members grow with your evaluation.
Thank you Helen for your insights to Geraldine's project. After a long hiatus, she took up the challenge to complete her project. You gave her valuable points to take away and the confidence to challenge her next project. Your point on the title making a very big difference to the speech is an important lesson not only for her, but for all of us as well.
Thank you Vincent for your evaluation for Simon. Evaluating an Advanced Project is intimidating and daunting. Evaluating a Technical Speech can be worse. Yet, you made it look like such a simple task. Your points for Simon was simple for all to understand and applicable to all our members, basic or advance manuals.
Thank you Huilin for agreeing to be my evaluator. I had been changing your date of visit and you always readily agree to it and I am really appreciative of that. Your points were in depth and I had benefitted from your evaluation.
Table Topics
Thank you Eunice for your very interesting Table Topics. No one would have ever thought of doing Table Topics like you did. It is a very engaging session and we had a lot of fun defending ourselves against petty Lunar New Year Crime. Thank you all table topics speakers for 'fighting' your case and entertaining us with hilarious replies.
Congratulations Bernard on winning the Best table Topics Speaker.
Induction
Thank you Simon for putting together the Induction and welcoming our new members into our QTMC family.
Timer
Thank you dear friend from Raffles Singapore, Parthi, for faithfully keep track of time while trying your best to focus and listen.
Visitors
Thank you Raffles Singapore @ Mountbatten for visiting us and joining us in this joyous occasion. Although you have robbed us of the golden gavel, we had fun hosting you.
Visiting Toastmasters and guests, thank you for making your way down and for making this meeting a success, and we welcome you to visit us again on the 19th of Feb 2014 to witness the crowning of our Club's International Speech and Table Topics Champion.
Thank you QTMC members for coming for the 8th Chapter Meeting of the 16th Executive term and I look forward to seeing you for the club contest on 19th Feb.
Members who were not able to make it, I hope this note has given you a glimpse of what you have missed and I look forward to seeing you on 19 Feb as well!
Thanks and Regards,
Timothy Lin, CC/CL
Vice President Education 2013/14
Queenstown Toastmasters Club
One Response to 29th January Chapter Meeting cum CNY celebration Sterlink