Good day Appointment Holders,
From the bottom of my heart, thank you for availing yourself this Christmas period and help make our 6th Chapter Meeting 2013/2014 a success! Pardon the long email
SAA
Thank you Geraldine for helping with the food catering and the preparation for gift exchange as well as manning the registration counter. Your serving heart was evident when you wanted to reach out to visitors and members and ensured they all have their door gift and number tag for the gift exchange.
Presidential Opening Address
Thank you Veronica for another opening address reminding us that giving is not about how much but about the love behind the giving. You reminded us to remember about family and to give back to our families who have given so much to us. Thank you for the very apt and timely message as we remember that this season is also about our family and loved ones.
Prepared Speeches
Thank you Shaun, Cindy and Mindy for taking the time to prepare for this segment. Delivering a prepared speech is never easy, having to put the time and energy behind crafting a speech with value to the audience, as well as the practice and preparation that goes behind it.
Thank you Shaun for sharing the 3 logic fallacies. Indeed, when we make decision, we tend to over-think and create funny scenarios in our mind. You have pointed them out and shared how to break free from it. It is a very deep topic and I look forward to hearing you share more and elaborate these points in your future speeches.
Thank you Cindy for reminding us what President Veronica has shared in the last chapter meeting during her opening speech. She reminded us that all of us makes a difference and you have shared stories and experiences, lessons and applications on how we can make a difference in the lives of other people. No man is an island and everything we do will make a difference in another person's life. A very timely message this festive season.
Thank you Mindy for inspiring us with your toastmasters journey, from your P1, which you shared having so much encouragements to how DTM Michael Wee helped you decide to stay on and continue until now when you finish your final project. Your journey is an inspiration and motivation to us all. We will remember your promise to mentor anyone who needs help
Congratulations DTM Mind Ding on winning the Best Speaker for tonight.
Refreshments
Thank you Liang Siah, Michele,Serene and Rose for the Cake, Green Bean Soup and Sparkling Juice. It has added to the festivity and ensured that we are very satisfied during the meeting.
Speech Evaluations
Thank you Richard, Sin Tiong, Aileen and Michael for taking very valuable time out of your very packed schedule to join us this meeting and to help our members grow with your evaluation. It is not easy to put together an evaluation in such short time but you managed to gather really great points for growth for our members.
Thank you Richard for your evaluable insights to Shaun's project. A very new member, you pointed out detailed learning points for him while staying very encouraging and affirming.
Thank you Sin Tiong for your very valuable pointers to Cindy. Completing her final project, you have helped her understand how all nine projects come together to form an inspiring speech.
Thank you Aileen for your very encouraging observation to my Toast. You have pointed out a very good point and I should have acceded to your suggestion. I will strive not to be lazy in that sense next time!
Thank you Michael for your detailed evaluation for Mindy. Having gone through the path to DTM, you are the best person to evaluate our next DTM. Your observations to her had definitely helped not only Mindy, but all of us, as we attempt a motivational speech.
Congratulations Sin Tiong for being voted the best evaluator for tonight!
Timer
Thank you Serene for paying attention to the timing while being focused on the speeches. Your faithfulness in ensuring the timing sequence is followed properly in order to help our speakers has been a testimony to your serving heart.
Awards and Recognitions
Thank you Veron for a very summarised account of Mindy's Toastmaster Journey from 8 years ago. Your sharing during the award presentation of her contributions has indeed inspire us to follow in Mindy's footsteps and strive to be the next DTM.
Congratulations Cindy on your completion of the Competent Communicator Manual. I really look forward to your Advanced Projects!
Congratulations Mindy on your award as Distinguished Toastmaster, the highest recognition in the Toastmasters Movement.
Thank you NTU Inspyre Members, lead by VPPR Sandy Zhang who gracing this chapter meeting. It is always good to have comrades from other clubs joining us!
Christmas Celebration
Thank you everyone who have brought a present for the gift exchange. Although there was a little confusion, everyone walked away with a gift. As we open the gift, remember, "it is not how much we give, but how much love we put into giving" (Mother Theresa) .Thank you everyone of you who was present this Chapter Meeting and Christmas Celebration. You have made this meeting a very successful one!
Visiting Toastmasters and guests, thank you for making your way down and for making this meeting a success, and we welcome you to visit us again on the 15th of Jan 2014 for our 7th Chapter Meeting.
Thank you QTMC members for coming for the 6th Chapter Meeting of the 16th Executive term and I look forward to seeing you for the 7th Chapter Meeting on 15 Jan!
Members who were not able to make it, I hope this note has given you a glimpse of what you have missed and I look forward to seeing you on 15 Jan as well!
Happy Holidays and a fruitful 2014!
Thanks and Regards,
Timothy Lin, CC
Vice President Education 2013/14
Queenstown Toastmasters Club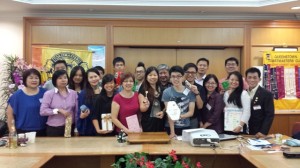 Please visit
https://www.facebook.com/events/707064469305887/
Good day dear member of Queenstown Toastmasters Club!
This is the last Chapter Meeting of QTMC for 2013 and it is going to be a spectacular night!
We have a very exciting programme lined up for all of you! We have 4 speakers for the night, sharing 2 basic and 2 advance projects. Please find the programme attached for your reference. Witness Cindy's completion of the Competent Communicator manual with her delivery of project 10 and the crowning of our 2nd Distinguished Toastmaster with Mindy's completion of her final project for her Advance Communicator Gold! There will also be a gift exchange segment at the end of the meeting!
Celebrate Christmas with us next Wednesday! Come with a gift of no more than $5 to participate in the gift exchange segment! Let's end 2013 QTMC Chapter Meetings with each other and celebrate our milestones together as family! See you on 18 Dec at 7pm!
Thanks and Regards,
Timothy Lin, CC
Vice President Education 2013/14
Queenstown Toastmasters Club
Good day Appointment Holders,
From the bottom of my heart, I would like to express my gratitude to every one of you who have contributed to another successful Chapter Meeting! Pardon the very long email =
TME
Thank you Kim Loon for helping to control the meeting and ensure a smooth running of the Chapter Meeting. Your transitions were peppered with humour and wit, and the flow was swift. It has been some time since we ended so early and it is possible because you had a grasp of timing and event.
President's Opening
Thank you Veron for the very inspiring speech on impacting people one at a time. Your closing statement of "It made a difference" for the story had caught the attention of all listening to your opening address. Your call to serve and make a difference in the lives of others is definitely something that we should strive to do.
LE
Thank you Zhi Hao for taking up the challenge of being our LE. It is not easy, having to not only pay attention but to stay focus while you are taking notes. I tend to get distracted by my own note taking but you were listening intently. Your word of the day was with meaning and values, encouraging us to seize the day. Your suggestion was informative, especially the stressing of the second syllable in a word with 3 or more syllables.
Prepared Speech Speakers
Thank you Manish, Cindy and Simon for your investment of time in preparing for a wonderful speech which inspires while informing us of the little known details in our lives.
Thank you Manish for the Laughter Yoga. I was tensed at the beginning of the meeting, worrying about my Impromptu Speech. However, your speech and demonstration of Laughter Yoga immediately helped me to relax.
Thank you Cindy for introducing the IDAT app by HPB. It will make watching my diet and calories intake easier and i now know it is better to go for KFC Fried Ribs than KFC Fried Drumstick.
Thank you Simon for the very informative speech on Dengue made easy for absorption. I did not know there are so many types of Dengue Fever. I am sorry i couldn't lay my hands on a projector. It had affected your delivery, but the speech quality was still very high.
Congrats Manish on winning the best speaker!
Refreshment
Thank you Geraldine for the wonderful refreshment. Thank you for ordering it. This selection was pretty well received by everyone.
Thank you Tracy for the little 'satay' snacks you made yourself. It was refreshing and yummy!
Speech Evaluators
Thank you Jianyu, Zee, Gwen and Liang Siah for your insights for the speakers. Your sharing had open my eyes and ears, and had helped me realise some things that i missed out. Most of you over run because your evaluation was not for voting purpose but really to benefit the speakers. Thank you for not worrying about the timing and putting the speakers first.
Thank you Jianyu for a very detailed evaluation for our new member Manish. Your suggestions using LAUGH was insightful and has helped me understand how I can improve myself as well, like how i can emphasise on idea using different variations of the same word.
Thank you Zee for a very succinct evaluation for Cindy. Your suggestions were detailed and had definitely helped Cindy. I like the way you structured your evaluation, to the point and with examples. Indeed, you have always been a model for our members and I look forward to learning more from you.
Thank you Gwen for agreeing to be my evaluator. Thank you for so willingly thinking up the topics, even though it is suppose to be my job. Your encouragement and energy have been received and I thank you for investing your time in helping me. I will work on my audience engagement and not being so sedated.
Thank you Liang Siah for a very in-depth evaluation for Simon. Having to hold and pacify a child while evaluating is very challenging and yet you make it look like a walk in the park. Thank you for the additional information about the mosquito and how painful Dengue is. You are a senior member we all look up to and strive to be.
Table Topic
Thank you Tracy for so courageously taking up the Table Topic Master position at such late notice. Thank you for bringing in the fun elements into the topic I prepared. Many perspective you offered while hosting table topics I have not noticed. Thank you for making it so much fun.
Special thanks to Eric, Jianyu, Alice, Glenn, Richard and Ching Kang for being so 'on-the-ball' and challenging the table topics. Congrats Alice for the best table topic speaker!
Timer/Ah Counter
Thank you Eunice for keeping watch over the time for the speakers. Thank you for helping me countdown with Simon to help spur me on and to hit the time objective. Thank you for your focus to ensure an accurate timing process.
Thank you Alison for paying attention and listening into our pause fillers. It is easy to get lost in the speeches and missed the pause fillers but you were not distracted.
Visiting Toastmasters and guests, thank you for making your way down and we welcome you to visit us again on the 18th of Dec for our 6th Chapter Meeting and Christmas Celebration.
Thank you members for coming for the 5th Chapter Meeting of the 16th Executive term and I look forward to seeing you for the 6th Chapter Meeting on 18 Dec!
Members who were not able to make it, I hope this note has given you a glimpse of what you have missed and I look forward to seeing you on 18 Dec as well!
Thanks and Regards,
Timothy Lin, CC
Vice President Education 2013/14
Queenstown Toastmasters Club