The Golden Gavel is an activity initiated by LGM Tay Yiang Ping to encourage club visiting. As long as we visit the host of the Gavel, sending 3 members, we will be able to host the Gavel while awaiting other clubs within Division D to visit us.
On 19th November, Timothy, Richard and Manish visited Bukit Timah Toastmasters Club to capture the Golden Gravel from the Host, Ms Chin Wee Kean, CC/CL.
We welcome the next three visitors of any of the Toastmasters club to "snatch" the Golden Gravel
Dear Members and Guests,
Please find enclosed program outline
See you there!
Speechcraft Program at Queenstown Toastmasters
DATES: 11th , 18th and 19th January 2014
TIME: 9am to 4pm on 11th; 9am to 12pm on 18th & 19th
VENUE: Queenstown Community Centre, #02-06 Conference Room
FEES:
$100 (Visiting Toastmasters)
Enrol now !
Register at http://jotform.me/form/33354293072452
Contact Email:  vpe.qtmc@gmail.com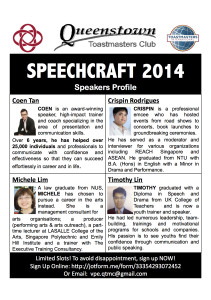 It was  a highly informative session which benefited all. Satisfaction can be seen from the faces above